In the digital era we live in, having a website is a must for any business. Not only does it serve as a platform to display your products and services, but it also acts as a virtual storefront that is always open. However, with the sheer number of websites on the internet, it's crucial to have a website that stands out among the competition and effectively conveys your brand message. That's where professional website design services come in. By investing in professional website design services, your business can reach its objectives, boost conversions, and drive more traffic to your site. A well-designed website not only helps to establish your brand identity but also provides a positive user experience, which can lead to increased engagement and ultimately, more sales. Additionally, professional website design services also ensure that your website is optimized for search engines, making it easier for potential customers to find your business.
Website is the face of your business!
NS Webtricks is a website design company that helps you create websites from scratch. There is no need to be an expert or have any coding skills. We'll create, design and publish your website with ease. A well-designed website will not only capture the attention of your target audience, but it will also encourage them to stay on your site and learn more about your products or services. On the other hand, a poorly designed website will drive potential customers away before they even have an opportunity to see what you have to offer.
As a business owner, you know that having a website is essential for staying competitive. But what you might not know is that the design of your website can have a profound effect on its success. With over 10 years of experience in the industry and a team of over 10 designers, we've learned what it takes to provide top-quality website design services, including responsive web design, to the businesses all around the world.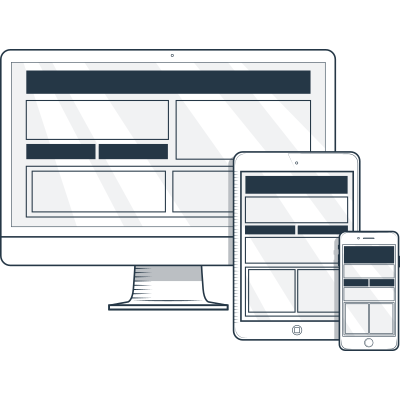 Points To Consider While Website Design Process
The bottom line is that if you want your website to be successful, you need to make sure that it is designed properly. Here are five tips for ensuring that your website design is up to par:
1. Keep It Simple
When it comes to website design, keep it simple and informative. A complicated, cluttered website will only serve to confused and frustrate visitors. Instead, opt for a clean, simple design that is easy to navigate.
2. Make It User-Friendly
Your website should always be designed keeping users in mind. Make sure that your navigation is intuitive and that your content is easy to read and understand.
3. Informative
Keep all the relevant information related to your business in a effective way so that once you visit your website, get all what they are looking for.
4. Responsive
Nowadays viewing websites is starting to surpass desktop viewing, and although the user is accessing the same content, the device is much smaller and has limited access to fast internet. That means your website has to fit their device's screen and load on it quickly or they're going to leave.
5. Visibility
A professionally designed website will look more polished and professional than a DIY site. This can help give your business an edge over the competition. potential customers will take you more seriously if your site looks like it was created by a professional.
Another reason to consider professional website design is that it can save you time and money in the long run. If you try to design your own site, you'll likely end up making lots of mistakes along the way. These mistakes can cost you money in terms of lost sales or customers. A professional web designer will know how to avoid these pitfalls so that your site runs smoothly from start to finish.
Finally, professional website design can provide you with peace of mind.